Q2 Crypto Outlook, FED, Inflation, BTC, ETH, L1s, DeFi, NFT, GameFi, Metaverse
Q1' 2022 saw some wild swings in almost all asset classes, be it stocks, crypto, bonds or commodities. At one point, when the war started in February, it looked as if everything would fall off the cliff. But markets took everything in stride once again and we ended the quarter almost where we started. In spite of FED raising rates by 25 bps, markets just shrugged. Probably had been pricing in a small rate hike since Nov 20. However, rate hikes might not be small anymore, and war and inflation continue to loom in the background. The main questions then for this quarter are:
Can FED raise by 50 bps this time? Possibly more? We think FED could eventually raise rates at a much higher pace. Perhaps 25-50 bps each time?
Would the stock market shrug this off as well? What about private markets? We believe Inflation is getting out of control effecting public and private markets alike. Civil unrest could spread if not controlled quickly
What does it all mean for crypto land? Crypto, in our opinion, should follow global macro closely, at-least for this quarter. BTC & ETH will emerge winners in medium to long term. Short term we remain neutral to bearish.
MACRO MENTAL MODEL
Inflation is the key theme for Q2 – is the highest it's been since 1981 as far as CPI is concerned. US CPI printed at 8.5% in April with PPI at 15.2% – only higher in 1974 (see charts below). Also, real inflation is way beyond as metrics continue to change. What we are seeing in Sri Lanka, Libya etc (low foreign reserves, crushing debt and spiralling inflation) is now spreading to several other countries. This is most worrisome to us for the medium term as it not only impacts the common man, who is already struggling, but also forces the government to act in ways that it doesn't want to. And act they will. But the only tool they have is monetary tightening. And tightening will crush their own markets, with global ripple effects.
War has exaggerated inflation with supply of most commodity supply chains getting hit. We will see more effects in the coming months and quarters. This could lead to failed enterprises that cannot pay their dues with crippling defaults in trillions of shady derivatives. However, we believe inflation is here to stay for a while. You cannot print trillions and hope that to fade away overnight.
Inflation leads to demand destruction as the common man starts cutting down and corporations tighten their purses (less inventory, no hiring, less investments etc). This should bring down valuations of speculative as well as growth companies, leading to significant corrections in stock markets. Rising rates cause your cost of capital to rise, meaning it's more expensive to borrow money.  Discretionary spending goes down aka demand goes down.
FED could be forced to raise rates at a much higher pace to counter this inflation menace. Higher rates are not good for stocks which in turn is not good for crypto. At least for the short to medium term we should see some sort of correction towards the end of Q2 as effects of rising rates creep in. FED can max raise by 200 bps, in 25-50 bps increments this year. Beyond 200 bps its chaos and havoc in markets. With midterm elections in November, FED cannot afford to tighten too much either.
FED tapering will squeeze liquidity further. Tapering refers to the process of a central bank scaling back its asset purchases of its member banks (Quantitative Easing to support the economy). FED is pumping $120 bn / a month (yes, a month, on top of trillions in stimulus already). This pumping will stop entirely by Q2 and that should have reverberating effects across the financial metaverse.
A Word on Inflation
Inflation is globally out of control as governments all over the world have printed in access. Central planning has failed its people. Citizens are angry across Sri Lanka, Peru, Europe, South America, Middle East, Africa, Asia, and North America. Even the upper middle class is starting to pinch, let alone below the poverty line. This is how the Arab Spring started and several other revolutions in history. When you can't feed your kids and family, you go to any lengths and hit the streets. Helplessness leads to desperate measures. We are seeing that already in places. Citizens of Sri Lanka and Peru and Libya and Iraq, are hitting the streets across the country. The Russo-Ukrainian war is exaggerating an already worse situation due to access printing. Money as we know is broken. And that is causing all kinds of pain. Eventually demand starts ti suffer and that brings down commodity prices. But would that be sufficient enough and quick enough in the coming quarters to looɔ ʞo down inflation to 2-3% levels? A tough nut to crack in our opinion.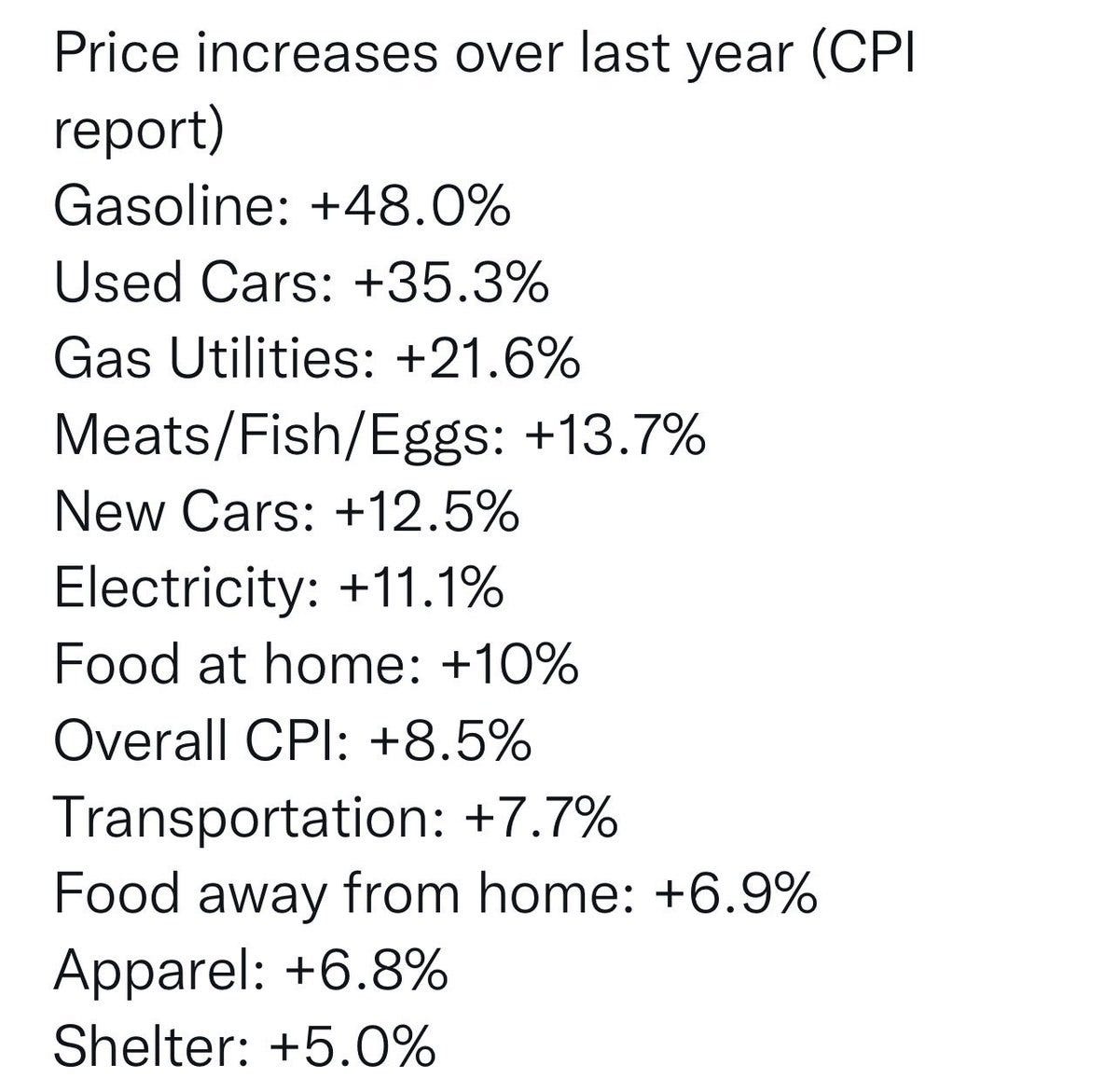 What does it all mean?
Possible Correction by end of Q2/Q3 – After effects of war, fed tapering, higher rates, defaults, and general demand destruction could lead to 20-50% corrections in stocks. And since crypto is 75%-80% correlated, that will not be spared either.
Inflation to Recession – Demand destruction will move us to recessionary levels and correct the commodity markets, thereby forcing the FED to start printing again as midterm November elections approach. That is the time to back up your truck and start dollar cost averaging back in.
Retail and middle class conditions worsen as they are not prepared for this high inflation that is going to persist for a while
Dips will be bought back in Q3/Q4 – Markets will become too cheap not to buy and commodity prices will come back to Earth due to lesser demand. FED will have to pause or ease again for midterm elections and war should become more "silent" narrative. Savvy smart investors are already hodling cash and backing up their truck for that scenario.
What choices do the governments have?
A full blown recession, deep distrust and civil war? Definitely no, not in an election year
Not hike interest rates – that is also not possible because inflation will sky rocket soon if not controlled and lead to civil unrest at many places
Start printing again – keep everyone happy. Counter inflation with direct payments from printing and pass the baton to next government and let them take the fall – most likely, but once they've tightened a bit
STATE OF CRYPTO MARKETS
Narratives have proven to be very powerful in crypto. Sometimes driven by new technology, new use cases but mostly by pure greed. Greed by founders, greed by whales, greed by HFT shops. DeFi summer of 2020 to NFTs in 2021, then DAO's (kindaaa) to L2 (kindaaa), to GameFi / Metaverse (Currently).
Current narratives are revolving around macro uncertainty and how rallies are fading, although accumulators are accumulating and exchange holdings are continuously depleting.
Market has not been able to find an aggressive bullish narrative to push beyond 47K BTC for some time now in spite of some short term narrative like Luna Foundation buying BTC. Nothing sustainable or a nothing sustainable like a DeFi, GameFi or NFT narrative.
Crypto markets stay extremely correlated to NASDAQ and S&P. Hence global macro continues to steer the direction of crypto markets as well.
New crypto funds continue to raise billions daily. All these billions need to be deployed soon. Most of them are starting to focus on a longer term play in the infrastructure space – GameFi, Metaverse or Interoperatable protocols.
GameFi (blockchain based play to earn games) and Metaverse are the major themes this quarter where we are seeing most investment.
Altcoins have retraced 50-75% already and some of the coins are at pretty good levels to get back in
BITCOIN
Given macro uncertainties as explained above, we could see a pull back in stocks leading to a pull back in crypto in coming months. That would be an apt time to get back in if one has been waiting for that moment. However, that is not preventing Hodlers from"Hodling" as more and more coins are being pulled off exchanges daily.
Above macro is not completely priced in either. FED rate hikes could be larger than the market is thinking, yield-curve inversions could get worse, the Russian invasion of Ukraine could linger on and is always a black swan event away, new COVID variants, etc. – there is more uncertainty that is not priced in yet. Macro uncertainty can always cause contagion in all markets, including crypto. But this time, BTC should not crash with broader markets like March 2020 because:
More institutions means more holding power
Less derivative exposures vs March 20
More money sitting on the sidelines looking for great entry levels
Less crypto collateral for futures and margin trades means less cascading effects
Heavy accumulation by large institutions under 30K \
Saylor, Do Kwon and Luna foundation continue to own a bigger chunk every-time
30K-32K are good levels to start to get back in if markets show vulnerability. Smart money should start going in much earlier around 35K-37K as they have the power to hold.
ETHEREUM
We believe ETH will outperform BTC this year and next. It is also highly undervalued against other L1 chains. The upcoming merge in Q3/Q4, and all data surrounding it, is as bullish as it gets for ETH. Combine that with L2 solutions like Arbitrum and Starkware, that are all build on ETH as base blockchain, and you've got a lethal bullish combination.
Ethereum's inflation rate is set to drop by the equivalent of three Bitcoin halvings. This has been dubbed the "triple halving" by some. There will be no new ETH hitting the market. That is ETH becomes deflationary after the merge. With The Merge, transaction fees will be directed away from hardware miners and towards ETH stakers—driving up the staking APY from 4% to upwards of 9-12%. 
ETH L2 SCALING
Starkware and Arbitrum continue to push DApps and volumes on Ethereum. Starknet is the more popular one suddenly as its valuation hit US$ 6B led by Sequoia, Paradigm, 3AC and Alameda. This will further push developer activity on Starknet which already has some great community and several DeFi apps are building on it. This is all very bullish for Starknet as well as Ethereum.
L1 COMPETITORS (Sol/Luna/Avax/Atom/Near)
If you look back last two years, you see how perfectly the narratives have driven up the prices in one L1 to settle down abruptly into another L1 rotation. If you understand these cycles of hype and rotations, you could make a lot of money in crypto. Make sure you always book profits and are not left holding the final bag.
LUNA seems to be the talk of town with its $125mn daily purchases of BTC to stabilise its UST. That has helped keep a floor of around 40K on BTC. Do Kwon the new Michael Saylor? He has a grand vision and is executing very well to make UST ecosystem that is acceptable everywhere. DApps, NFT projects, GameFi are all coming to Terra ecosystem gradually as well. But this recent dip is concerning and again points out to whales cashing out after a 100% run.
AVAX continues to make strides as well with its new Subnets proposition for GameFi. Defi Kingdoms and Crabada will be the first subnets relatively soon. No harm in having some AVAX in your portfolio for some GameFi and meta verse surprises. Like LUNA, AVAX is also suffering from global macro uncertainty and whales winding down their positions.
SOLANA had a decent run with announcement that OpenSea was launching Solana NFTs as well. That would definitely stir up some NFT season on Solana but temporarily so in our opinion. Rust developers are still hard to find and non compatibility with other chains is not helping either. While Solana is leading in GameFi season for now, Polygon is fast catching up. Aurory, Star Atlas, MixMob, are some key games to watch for but might take some time to fully release.
ATOM is our favourite of all L1s with continuous product releases below radar. IBC connection to multi blockchains is fast and lets everyone create their own chains. Even Terra is now integrated to the IBC bridge. DApps like Osmo and Juno work like breeze with a beautiful and rewarding experience.
NEAR Protocol may be following on tracks of UST's and trying to take some market share, setting an April 20th launch date for its new USN stablecoin – and possibly offering interest rate of around 20%. Could more protocols follow on those footsteps and we have UStable Wars upcoming?
DEFI
DeFi 2.0 never really came IMO. Or shall we say it was eclipsed by NFTs, GameFi and Metaverse narratives. However, there are some brilliant founders building very interesting projects. But with VC attention span focussed on next big thing, DeFi has generally taken a back seat. Some trading protocols and proven teams continue to raise money for projects but then die soon enough as soon as yields drop from 10,000% to 100%. Lockups are longer and there is Anchor that continues to give risk free (almost) 20% on UST.
We are selectively looking at proven teams with real use cases to be solved in DeFi space.
GAMEFI
We remain most bullish on GameFi and GameFi infrastructure but you really need to separate the wheat from the chaff with thousands of projects popping up everyday in this space on multiple chains.
It is crucial to understand that AAA games take years to build. DeFi games like Axie or Defi Kingdoms are just another DeFi with a nice UX. Neither is wrong. Depends what you are after
Gaming Guilds are an important piece of crypto gaming puzzle. Most will transform into starting to own assets and take part in gaming studios with investment into selected games
From P2E, we will see P2E2F – Play to Earn to Fun take over. Games need to be fun otherwise community gets bored and moves away to next bigger Ponzi.
GameFi narratives to watch

Big funds investing more in GameFi infrastructure than projects to find the next Unity or Unreal of gaming.
Brilliant founders with gaming backgrounds are in demand. Many traditional gamers are trying to make the jump not realising crypto is community driven and its P2E vs P2W in traditional gaming
Inter-opretability, MMORPG and scalability will become key words in GameFi as we go forward.
Right now most projects prefer Solana (early mover advantage) and Polygon (cost). AVAX is starting to make some moves with subnets but results are yet to be seen. All eyes on Defi Kingdoms & Cradaba.
Individual games are dime a dozen now. Coming months and years will separate winners from losers. Feels like ICO 2017 season all over again as everyday millions are being poured into new GameFi (albeit slowing down now)
METAVERSE
BAYC's for now is the most probable contender to Meta (FB) in terms of building a credible metaverse that communities love. BAYC (and Punks plus MAYC) were the undisputed kings of NFT land. But now they have won die hard loyalists with the AP coin AirDrop. BAYC was able to create value for its NFT holders with floor prices back to ATH. Now they have a cool extra $450 million they raised to build their own Metaverse, called Otherside. Possible more airdops? Land drops? We believe if you are holding BAYC and/or MAYC and some APE – you could be in for another pleasant surprise. And that could set the next narrative – the metaverse narrative.
This has already led to a new narrative building among top NFT projects – airdrop and metaverse. Build value, wealth and create use cases for next metaverse. Azuki could be next? The Sandbox and Decentraland are the other two land meta verse projects that seem to have lost steam recently. However, Animoca continues to push and Sandbox remains the best contender for a new virtual world
What most people don't realise that there are very few tools around to build a scalable metaverse on. Unity & Unreal will take years to build upon. MetaEngine is a close contender and we are investors in that (disclaimer). Meta is spending $10 billion on their own metaverse – that would set the tone for mass adoption. But winners would be likes of Sandbox or BAYC that bring brands, technology, celebrities, endorsements, sponsorships and community together via their tokens.
Keeping an eye on some meta verse plays and investing selectively in few.
NFT'S
NFTs continue to surprise as top NFT projects continue to go climb higher. It's astonishing how a bunch a community driven tribes can get behind a theme and rally all troops towards a common goals. That is what successful projects are about – tribe and a common goal. More importantly belief in that leader and his goal.
Most of these projects that have garnered a great community continue to build for longer term. Ethereum still remains the number uno choice for most with Solana trying to catch up.
Projects like LOOKS have gained market share over OpenSea just like Sushi vampire attacked Uniswap. There will be more copy cats as we go along but it would be extremely difficult to displace Open Sea for now.
Overall we believe that we haven't scratched even 1% of possible use cases that NFTs could bring. Like Software eat the world – everything can be and will be NFTized. It is happening much faster and sooner than we can imagine with every celebrity and brand jumping daily into a metaverse near you. We are keeping a close eye on some projects and selectively investing in brilliant teams.
SUMMARY
Going into Q3, crypto is going to be driven by global Macro. That is very uncertain (mostly negative) and primarily led by inflation and geopolitical woes. Governments will have to act in favour of the common man, and against their own stock markets to control ever rising prices of basic commodities.
In the short term, bond yields will rise, leading to correction in stock markets. Crypto will follow soon but there is a strong floor around 30k for Bitcoin. That strong support should bring in new and old buyers back into crypto to once again push for new ATH. This could very well coincide with FED reversing its truck to start easing it policies again by Q4.